This is the LO that I did for Sarah's Blue LO challenge during the Blue Brads 1st Fun Night last Wednesday.
This week is flying by and so it wasn't until this morning that I had the chance to get to it. Luckily I'd already got the photo's printed, waiting for the right scrapbooking theme to present itself, so, I was good to go.
A few bits and pieces from stash and there it was.
I think this is the quickest page I've ever done, 30 minutes, tops!
Thanks for looking.
Joining Miss Jenny @ off on my tangent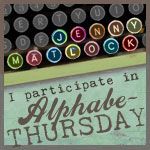 click on the link above to see who else is in class this week.